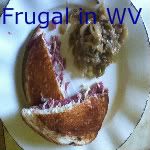 Portuguese Linguica Stew simply sounds delicious even without the appetizing photo to go along with it! Shout out to Frugal in WV for this delicious recipe! This recipe only takes 15 minutes to prepare then you can let it simmer for 45 and enjoy a delicious meal full of flavor! Yes, I will definitely try this!
Another one that I will definitely try is Chocolate Banana Muffins and the Homemade bagels. My kids love bagels so I am sure this will be a hit in our house. I was even thinking of adding some cinnamon to a batch or some blueberries? Sounds yummy, huh?
Be sure to stop by Frugal in WV for even more delicious recipes!
Thanks to everyone who participated in the blog hop. See you again next Friday!